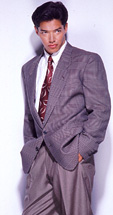 Russell Wong came to fame in an episode of 21 Jump Street and then won a starring role in Eat a Bowl of Tea. Since then he played a brutal womanizing jerk in The Joy Luck Club and co-starred as one of the two heroic, avenging, kung-fu brothers in the Vanishing Son TV series - which was released as a series of four videos. He also starred in the movie - "China Cry."
Russell Wong was born in Troy, New York in 1963. His father is a Chinese-American from Shandung Province and his mother is of Dutch, French, Canadian and Indian descent.
Did you know that... Russell was born in March 1963. He is the fifth of six children. His brothers are Michael (the actor), Steve (an assistant cameraman), Bradley (a hairstylist), Gregory (a bass guitarist), and Declan (a professional magician). His sister is Victoria (married with two children). Their parents were divorced when Russell was 7 years old.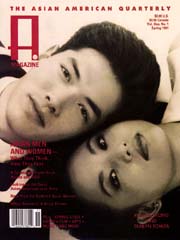 Russell is the father of a 9 year old daughter. The mother of his child is a black dancer he met in New York.
Russell started filming the movie "Takedown" this July, in Wilmington, North Carolina. Most women couldn't be there, but Hurricane Bonnie managed to make an appearance. The movie is scheduled for release, sometime in 1999. He is playing in the starring role of Tsutomo Shimomura. The movie is a true story about the pursuit and capture of Kevin Mitnick - America's most wanted computer outlaw - by the man who did it, Mr. Shimomura. Finally, he is playing the good guy and he doesn't die at the end!!!
Russell Wong, one of seven children (four older brothers, one younger sister, and one younger brother), was born in Troy, New York and raised in Albany. His father, a Chinese immigrant, and his mother, a caucasian housewife, gave Russell his first "job;" cleaning the Chinese restaurant owned by his parents and operated by his father. Growing up in a largely white neighborhood, Wong was at first a bit uncomfortable with his multi-ethnic heritage, but gained confidence from his accomplishments in the martial arts and dance.
Actor Russell Wong first broke into television with a guest appearance on 21 Jump Street, but later came into his own in Wayne Wang's film, Eat a Bowl of Tea. He also played a costarred in The Joy Luck Club ("remember that jerk with the watermelon?") and landed a starring role in the popular syndicated television miniseries, Vanishing Son, in which he played Jian-Wa, one of two brothers who used their martial art skills to help out those caught in no-win situations.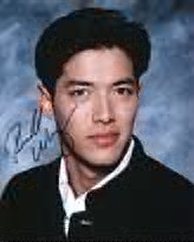 Russell's upcoming projects, which have been long anticipated during his recent absence from the screen and television, include Hawaii Five-O (a new version of the classic in which he'll be the lead star) and Charlie Chan (a remake of the original, WITHOUT the ethnic stereotyping, in which he'll play a detective). Recently released is the movie ROMEO MUST DIE with Jet Li. Word is that he actually gets to fight Jet Li - one guess on who is the best!?!?!
Often cast as the romantic lead, the 32-year-old Wong has received plenty of press that zeroes in on his good looks, muscular physique, and magnetic appeal to women. Obviously, he's gone beyond the superficial as his work speaks for itself.
Russell (along with Bai Ling) will be in "The Monkey King" (a NBC Hallmark mini series that was written by David Henry Hwang) will be on television in 2001. Russell talks about his role in an Internet chat. Click HERE to read what he thinks.
Read the reviews of Russell's appearance in the WB's Black Sash:
JACK ONG
ACTOR, WRITER & ACTIVIST
Discover the worthy causes, passions & talents of this noteworthy actor!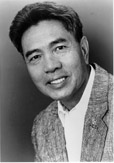 Jack Ong has guest starred on such TV shows as "Touched By An Angel," "Chicago Hope," "Beverly Hills 90210," "Friends," and "The Simpsons," and co-starred in the world premiere stage production of "The Reunification Hotel" by Julian Barry, award-winning author of "Lenny."
Jack is Executive Director of The Dr. Haing S. Ngor Foundation, a humanitarian organization which he co-founded with Dr. Ngor five years before the Oscar-winning Cambodian actor was killed. Ong is producing a documentary and writing a play about Dr. Ngor's life, murder and legacy of humanitarian work. A former member of the Screen Actors Guild board of directors.
Jack currently co-chairs the SAG/AFTRA Asian Pacific Islander caucus, serves on the East West Players New Theatre Campaign, directs a drama ministry at the Pacific Christian Center in Manhattan Beach, CA, and is active with Amnesty International and various human rights advocacy groups. He is writing and performing a series of Asian fairy tales with Raw Space Studios and Pacific Radio in New York.



Any questions regarding the content, contact Asian American Artistry
site design by Asian American Artistry
Copyright © 1996-2001 - Asian American Artistry - All Rights Reserved.
Special thanks to Vision Software